ECOPLUGŪ
Current Problem
loriferous trees grow at different rates. However, they have one common characteristic - they continue growing after having been cut down. Stumps and roots sprout new shoots that grow and within just months these can transform a stump into a bush as tall as a man. The solution to date has been treating the stump with liquid chemicals to prevent root and stump sprouting. This method is heavy, risky and expensive. Big chemical drums must be moved around often resulting in spillage of chemicals on the skin and on green areas.
ECOPLUG® is a patented Swedish product, which is used, in great quantities in Sweden, Norway and the USA.
The ECOPLUG® has revolutionized the treatment! It's a 100 percent effective method dealing with eliminating the sprouting from broad leaf trees. It can be used year around and will kill: Alder, elm, aspen, birch, beech, lime, maple, mountain ash, sallow, poplar, ash, cherry, bird cherry, oak and more.
The plug contains granula Roundup® Max which is degraded by micro-organisms in the soil and with the correct application will kill the entire root system. The granula quickly dissolves in the sap which spreads it to the roots through the stump's own capillary. The chemical is only applied exactly where it is needed thus protecting the surrounding environment - neither people, animals nor the environment will be exposed to our product.
The ECOPLUG® reduces the amount of chemical used by 90-95% compared to the liquid chemical required for the same area when applied by spraying.
ECOPLUG® Process
The process is simple:
Hole drilled in cut / re-growing stump
Hole 25-30mm deep and 13mm diameter
Plug inserted to drilled hole
Plug cracked by tap from a hammer
Plug locks into stump and seals hole
Herbicide slowly dissolves into sap
Stump killed via cambium and roots
ECOPLUG® Usages
The ECOPLUG® can be used in small as well as large areas, golf courses, municipal parks, and road crossings. Other potential areas include utility roads, railway embankments, road reserves, canal embankments, industrial areas, military fields, rifle ranges, and areas which require high visibility such as areas surrounding bridges and lighthouses.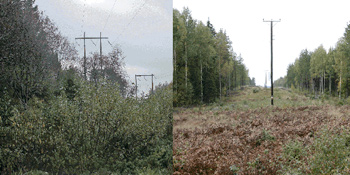 Before and after ECOPLUG® application Ð Sweden
JSD Rail services
ECOPLUG®
For all enquiries please contact Tony Saunders at tony.saunders@jsdrail.com
Click on the link below to visit ECOPLUG® Sweden
ECOPLUG® second year at the Saltex Show Windsor
September 2011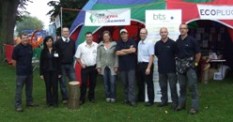 Day one of this year's event was wet windy and cold, nether the less a number of visitors came to seek shelter at the ECOPLUG® stand. Second and third days were much better for weather and attendance at the show.
Interest was shown from all professions across the sector including Tree Surgeons, Borough & District Councils, Local Authorities, Universities and grounds people alike. This year's show was key for us with regards to feedback from those who had used the product in the 12 months from its launch in the UK.
We were very pleased that all the feedback received at SALTEX was positive with many people taking advantage of the promotional show price to re-stock.
A special thanks to the BTS group for their help with the promotion of this exciting product on their stand "The World of Arb".