Traction Gel Applicators
Why do we use them?
Railway wheel traction is greatly affected by railhead contamination, which results largely from leaf fall during autumn. Compacted leaves cause a loss of traction, which can cause various safety related incidents such as SPAD's and station over runs. This causes unsafe operating conditions, which consequently can also cause significant operating delays.
TGA applies traction gel to the rail head to combat the build up of leaf contamination on the head of the running rail(s). The gel is picked up by the train wheels and carried along, treating both the wheels and the rail head.
TGAs apply the product from a track side unit so that as every train passes, continuous conditioning of the wheel and the rail is provided.
How a TGA works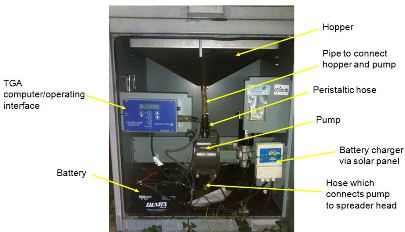 The TGA system consists of a track side cabinet housing electronic power (via a pole mounted solar panel which charges a battery), control equipment, peristaltic pump and a hopper.
A wheel sensor is clamped to the gauge side of the rail and is positioned around 50m away on the approach to the unit.
A delivery hose (connects the pump to the spreaders) feeds the spreaders mounted on the field side of the running rails.
The TGA automatically dispenses traction gel onto the rail head via the hose and spreaders when a train's wheel goes over the sensor. As the sensor is positioned 50m prior to the TGA unit, the gel is already dispersed by the time the train reaches the spreader head. The gel on the railhead is consequently spread by the passing wheels.
Output is easily adjusted from the cabinet, which is sited in a place of safety. The equipment is typically mounted at the approach and exit of stations and halts, at level crossings and signals. Its purpose is to assist in traction during braking and acceleration. The spread of gel is up to 200 metres.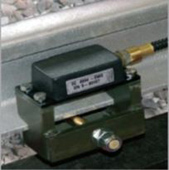 Wheel sensor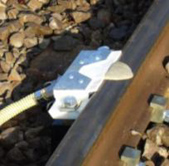 Gel spreader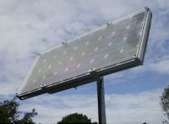 Pole mounted solar panel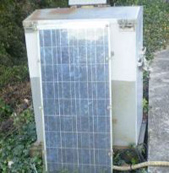 Unit mounted solar panel
For further information on our TGA services please contact our Rochdale office from the contacts area of the web site.